I just sold my entire collection of unopened Star Wars Episode 1 figures for $20. I didn't even broke even with what my geeky 13 year old self paid for them. While E-bay confirmed over the years that they weren't worth much, I could never let them go for 'nothing'. As I minimalize and reclaim more and more of my house I was more than happy to have these gone and reinvest the $20 into pizza and garlic bread.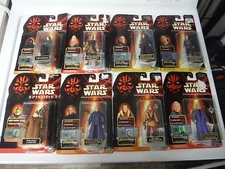 So yes happy- relieved even, to say goodbye to yoda but still unwilling to pitch my pog collection which was housed in the same now emptier box as the Star Wars figures. I'd planned to give the pogs to my kids one day until reading this:
Things that were fads should fade away from your life. You probably wouldn't re-buy that pog collection, right? Some things served their purpose for that time in your life, but they're superfluous now https://www.everydollar.com/blog/cash-in-your-clutter  
Ouch! If the post had used a Star Wars example I'd be patting myself on the back instead of being smacked with reality. Pogs aren't making a comeback and my kids won't want them. They were a nice recess distraction in grade four and its now time to let them go. At least these suckers are cardboard and can be recycled. I find the idea of things having served their purpose for a specific time in your life as a good mantra to purge collectibles. Maybe I can let go of my china dolls next.